Data Related To Left Extremism In India: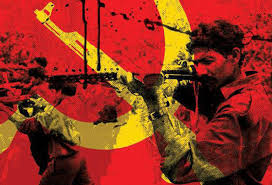 During question hour in Lok Sabha, the Ministry of Home Affairs provided data related to left extremism in India.
The incidents of Naxal violence in the country have dropped by 77 % between 2009 and 2021, and deaths of security force personnel due to Maoist violence have more than doubled in Chhattisgarh in the past three years.
Similarly, the resultant deaths (civilians + security forces) have reduced by 85 % from an all-time high of 1,005 in 2010 to 147 in 2021.
In states, Chhattisgarh tops the countrywide figure for deaths of security personnel, as it accounted for 90% of all security personnel deaths in the country, followed by Jharkhand which recorded 5 personnel deaths.
There has been a decrease in the geographical spread of violence as only 46 districts reported LWE-related violence in 2021, compared to 96 districts in 2010.
Due to this, there has been a reduction in the number of districts covered under the Security Related Expenditure (SRE) Scheme from 126 to 90 in 2018 and further to 70 in 2021.
Similarly, the number of districts generating almost 90% of LWE violence, classified as the most LWE-affected districts, decreased from 35 in 2018 to 30 in 2021.
Left-wing Extremism:
LWE organizations are the groups that try to bring change through violent revolution.
They are against democratic institutions and use violence to subvert the democratic processes at the ground level.
These groups prevent the developmental processes in the least developed regions of the country & try to misguide the people by keeping them ignorant of current happenings.