High Electron Mobility Transistors (HEMTs):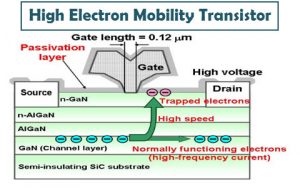 Indian scientists have developed a highly reliable HEMT from gallium nitride (GaN).
This is the first-ever indigenous HEMT device and is useful in electric cars, locomotives, power transmission and other areas requiring high voltage and high-frequency switching.
This would reduce the cost of importing such stable and efficient transistors required in power electronics.
It will also make India self-reliant in power transistor technology.
High Electron Mobility Transistor (HEMT) :
It is a normally OFF device and can switch currents up to 4A and operates at 600 V.
HEMTs are used in integrated circuits as digital on-off switches.
HEMT transistors are able to operate at higher frequencies than ordinary transistors, up to millimeter-wave frequencies, and are used in high-frequency products such as cell phones, satellite television receivers, voltage converters, and radar equipment.
They are widely used in satellite receivers, in low-power amplifiers, and in the defense industry.