Human Rights Watch's World Report 2023: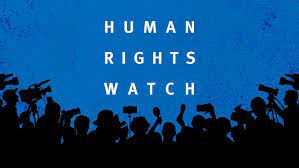 The Human Rights Watch in its World Report 2023 (33rd edition) said that Indian authorities had "intensified and broadened" their crackdown on activist groups and the media throughout year 2022.
It also claimed that the current Central ruling party used abusive and discriminatory policies to repress minorities.
World Report 2023's Findings about India:
The report found the Central govt. promoting Hindu majoritarian ideology, provoking authorities and supporters to engage in discriminatory and at times violent actions against religious minorities.
It highlighted the government's discriminatory stance toward minority communities in cases of violence against women
Even after 3 years of removal of Article 370 and subsequent creation of two UTs (J&K and Ladakh), "the government continued to restrict free expression and peaceful assembly" in the two UTs.
HRW appreciated the increasingly liberal steps taken by the Supreme Court of India such as the ruling to halt all use of the colonial-era Sedition law.
It also referred to the SC's ruling on extending abortion rights to all women regardless of marital status and widening the definition of a family to include same-sex couples, single parents, and other households.
It also took note of the SC's banning of the two-finger tests in a step to protect survivors of sexual assault.
Human Rights Watch (HRW)
It is an international non-governmental organisation founded in 1978 as "Helsinki Watch," initially aimed at investigating rights abuses in countries that signed the Helsinki Accords.
Currently, its ambit has expanded to about 100 countries worldwide.
It is headquartered in New York City.
Helsinki Accords (1975) was a major diplomatic agreement signed in Helsinki, Finland, at the conclusion of the first Conference on Security and Co-operation in Europe (now Organization for Security and Co-operation in Europe).
Primarily an effort to reduce tension between the Soviet and Western blocs, they were signed by all the countries of Europe, the US and Canada.
The agreement made the 35 signatory nations pledge to respect human rights and fundamental freedoms.