Light Combat Helicopter Prachand: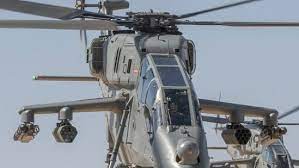 The Indian Army's Light Combat Helicopter (LCH) Prachand successfully carried out the inaugural firing of 70 mm rockets and 20 mm turret guns both day and night.
Light Combat Helicopter Prachand is India's first indigenous multi-role combat helicopter, developed by Hindustan Aeronautics Limited (HAL).
It is designed to meet the needs of the Indian armed forces operating in deserts and mountainous areas.
The helicopter is fitted with Shakti Engine, which is co-developed by HAL and France's Safran.
The helicopter received operational clearance in 2017.
It can fly at a maximum speed of 288 kmph and has a combat radius of 500 km, which can go up to a service ceiling of 21,000 feet.
The helicopter can carry out activities such as Combat Search and Rescue (CSAR), Destruction of Enemy Air Defence (DEAD), operations against slow-moving aircraft and Remotely Piloted Aircraft (RPAs), high-altitude bunker busting operations, counter-insurgency operations in the jungle and urban environments, and provide support to ground forces.
The helicopter will be equipped with Helina missiles, the air force version of which is called Dhruvastra.