1st Ministerial Meeting Of The India-European Union Trade And Technology Council: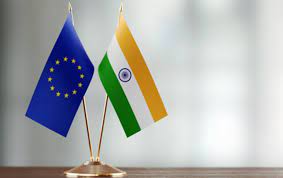 The 1st Ministerial meeting of the India-European Union Trade and Technology Council (TTC) took place, in Brussels, Belgium.
The EU-India Trade and Technology Council is the second bilateral forum for the EU and the first one established with any partner for India. The EU and the US launched a TTC in June 2021.
The meeting aimed to provide direction and lay the roadmap for cooperation between the two sides regarding:

Addressing mutual market access
WTO (World Trade Organization) reforms
The ongoing negotiations for a Free Trade Agreement (FTA)
Cooperation in various areas of mutual interest

India and the EU were also working to resolve a looming issue in their trade relationship ,the E.U.'s Carbon Border Adjustment Mechanism (CBAM).
The E.U. describes the CBAM as a "landmark tool" which places a "fair price" on carbon emitted during the production of goods that are entering the EU and a mechanism to "encourage cleaner industrial "production outside the EU.
India-EU Trade and Technology Council:
The formation of the TTC was announced by the Indian Prime Minister and President of the European Commission in 2022 with the objective of creating a High-level coordination platform to tackle strategic challenges at the nexus of trade, trusted technology and security.