Punjab Lok Congress Has Received Its Party Symbol – Hockey Stick And Ball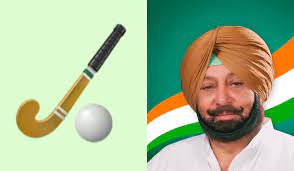 Former Punjab CM Amarinder Singh's newly formed party Punjab Lok Congress has received its party symbol – Hockey stick and ball
As per the guidelines, to get a symbol allotted:
A party/candidate has to provide a list of three symbols from the EC's free symbols list at the time of filing nomination papers.
Among them, one symbol is allotted to the party/candidate on a first-come-first-serve basis.
When a recognised political party splits, the Election Commission takes the decision on assigning the symbol.
Powers of Election Commission:
The Election Symbols (Reservation and Allotment) Order, 1968 empowers the EC to recognise political parties and allot symbols.
Under Paragraph 15 of the Order, it can decide disputes among rival groups or sections of a recognised political party staking claim to its name and symbol.
The EC is also the only authority to decide issues on a dispute or a merger. The Supreme Court upheld its validity in Sadiq Ali and another vs. ECI in 1971.
As per the Election Symbols (Reservation and Allotment) (Amendment) Order, 2017, party symbols are either:

Reserved: Eight national parties and 64 state parties across the country have "reserved" symbols.
Free: The Election Commission also has a pool of nearly 200 "free" symbols that are allotted to the thousands of unrecognised regional parties that pop up before elections.