Rasht-Astara Railway: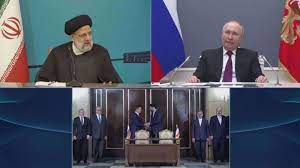 Russia and Iran have signed a deal to build an Iranian railway line, the Rasht-Astara railway as part of an International North–South Transport Corridor (INSTC).
The Rasht-Astara railway is seen as an important link in the corridor, intended to connect India, Iran, Russia, Azerbaijan and other countries via railways and sea – a route that Russia says can rival the Suez Canal as a major global trade route.
Rash Astra Railway is a 162-kilometer railway that will connect the city of Rasht (Iran) near the Caspian Sea, to Astara (Azerbaijan) on the border with Azerbaijan.
The new connection will shave four days off that traveling time frame.
The unique North-South transport artery, of which the Rasht-Astara railway will become a part, will help to significantly diversify global traffic flows.
Transportation along the new corridor will have significant competitive advantages and will substantially cut travel times and costs and help develop new logistics chains.
The railway along the Caspian Sea coast would help to connect Russian ports on the Baltic Sea with Iranian ports in the Indian Ocean and the Gulf.