25th Controller General Of Accounts (CGA):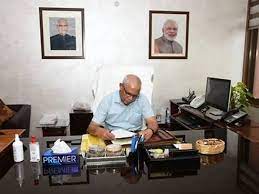 Deepak Das took charge as the 25th Controller General of Accounts (CGA), with effect from August 1, 2021.
Parent agency: Department of Expenditure, Ministry of Finance.
It is the Principal Accounting Adviser to Government of India and is responsible for establishing and maintaining a technically sound Management Accounting System.
Functions:The Office of CGA prepares monthly and annual analysis of expenditure, revenues, borrowings and various fiscal indicators for the Union Government.
Under Article 150 of the Constitution, the Annual Appropriation Accounts (Civil) and Union Finance Accounts are submitted to Parliament on the advice of Comptroller and Auditor General of India.
Along with these documents, an M.I.S Report titled 'Accounts at a Glance' is prepared and circulated to Hon'ble Members of Parliament.
It is also responsible for coordination and monitoring the progress of submission of corrective/remedial action taken notes (ATNs) on the recommendations contained in Public Accounts Committee's (PAC) reports as well as the Comptroller & Auditor General (CAG) reports through its web based Audit Para Monitoring System (APMS).