IBSA: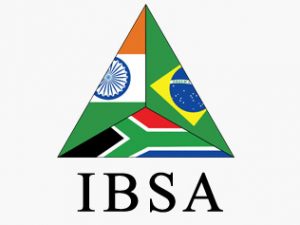 India organized the IBSA (India, Brazil and South Africa) Tourism Ministers' virtual meeting.
India is the current IBSA Chair.
The IBSA is a trilateral, developmental initiative between India, Brazil and South Africa to promote South-South cooperation and exchange.
The idea of South-South Cooperation (SSC) is not new. Its genesis can be traced back to the decades of efforts by countries and groupings working together to ensure South-South solidarity such as Bandung conference 1955, Non-Aligned Movement 1961, G77 grouping, UNCTAD, the Buenos Aires Plan of Action 1978, and the 2009 Nairobi declaration.
The grouping was formalized and named the IBSA Dialogue Forum when the Foreign Ministers of the three countries met in Brasilia (Brazil) on 6th June 2003 and issued the Brasilia Declaration.
Headquarters: IBSA does not have a headquarters or a permanent executive secretariat.
At the highest level, it counts on the Summits of Heads of State and Government.
So far Five IBSA Leadership Summits have been held. The 5th IBSA Summit was held in Pretoria (South Africa) in 2011. The 6th IBSA Summit is to be hosted by India.
IBSAMAR (IBSA Maritime Exercise) is an important part of IBSA trilateral defence cooperation.
Six editions of IBSAMAR have been held so far, the latest one being off the coast of South Africa in October, 2018.