2nd National Conference Of Chief Secretaries In New Delhi: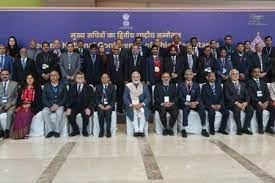 Prime Minister Narendra Modi is recently chaired the national conference of Chief Secretaries in New Delhi.
The three-day conference of Chief Secretaries began on January 5, 2022.
The conference is focused on achieving rapid and sustained economic growth in partnership with the States.
It will lay the ground for collaborative action for achieving a Viksit Bharat with a thrust on growth and job creation and inclusive human development.
It will be another key step towards further boosting the partnership between the Centre and the State Governments.
The discussion during the conference will be held on six identified themes.
These are Thrust on MSMEs, Infrastructure, and Investments, Minimising Compliances, Women's Empowerment, Health and Nutrition, and Skill Development.
The first such conference of Chief Secretaries was held in Dharamshala in June 2022.