35th Surajkund International Mela: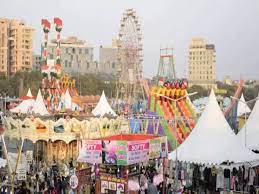 The 35th Surajkund International Crafts Mela 2022 is being held from 19th March, 22 to 4th April, 2022 in Faridabad, Haryana.
This fair is held every year in the month of February, however, the schedule was revised this year due to the Coronavirus.
The annual fair in Faridabad was last held in 2020.
The Mela is organized by the Surajkund Mela Authority & Haryana Tourism in collaboration with Union Ministries of Tourism, Textiles, Culture and External Affairs.
The Mela was initiated in 1987 to promote the pool of skilled artisans, who used indigenous technology, but were suffering due to the cheaper machine-made imitations.
The fair was upgraded to an international level in 2013.
The Surajkund Mela showcases the richness and diversity of the handicrafts, handlooms and cultural fabric of India, & is the largest crafts fair in the world.
Jammu & Kashmir is the 'Theme State' and Uzbekistan is the "Partner Nation" for the year 2022.