37th National Games : Inaugurated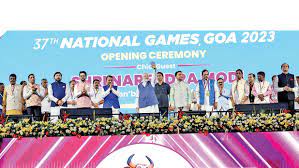 The 37th National Games were officially inaugurated by the Prime Minister of India at the Pandit Jawaharlal Nehru Stadium in Margao, Goa
A roadmap was outlined that focuses on talent discovery, nurturing, and ultimately, achieving podium finishes at the Olympics.
This includes initiatives like Khelo India and Temperament for an Olympics Podium Finish (TOPS), which provide scholarships and world-class training to athletes.
The "MY Bharat" platform was also introduced which aimed at connecting the youth with national schemes and opportunities, promoting their potential and contributions to nation-building.
India's aspiration to host the Youth Olympics in 2030 and the Olympics in 2036 were articulated, backed by the nation's growing economy and infrastructure.