Nano Liquid DAP Fertilizer : Approved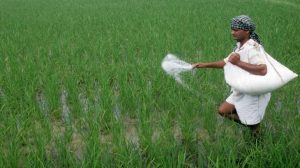 The Government recently approved the launch of nano liquid DAP (di-ammonium phosphate) fertilizer in India and has been notified in the Fertilizer Control Order (FCO).
Nano liquid DAP fertilizer is a concentrated phosphate-based fertilizer.
It provides phosphorous nutrition throughout the crop growth and development cycle.
Nano-DAP is jointly manufactured by Indian Farmers Fertiliser Cooperative (IFFCO) in association with a private player Coromandel.
Nano-DAP will be sold at Rs 600 per bottle of 500 ml. One bottle will be equivalent to one bag of DAP, which currently costs Rs 1,350.
DAP is the second most consumed fertilizer in the country after urea.
Out of the estimated annual consumption of around 10-12.5 million tonnes, local production is around 4-5 million tonnes, while the rest has to be imported.
Nano-DAP will help to bring down India's fertilizer import bill.
It is also expected to contribute to bringing down the annual subsidy on non-urea fertilizers.