3rd Edition of National Tribal Dance Festival: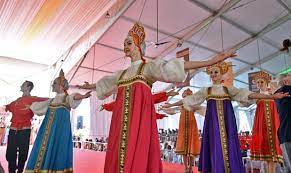 Artists from across the world take part in the 3rd Edition of National Tribal Dance Festival in Raipur, Chhattisgarh on the event of state foundation day.
Nearly 1,500 dancers from across India and countries like Mozambique, Mongolia, Tonga, Russia, Indonesia, Maldives, Serbia, New Zealand and Egypt arrived for the festival.
National Tribal Dance Festival is one of Chhattisgarh's grand festivals which celebrates diverse tribal communities and their culture not just in India but from across the globe.
It is organised under the Tourism and Culture Department of Chhattisgarh.
This festival aims to unite the tribal communities and provides an opportunity to educate about their rich culture for all.
The first National Tribal Dance Festival was organised in 2019 and second in 2021.