PSLV-C53/DS-EO Mission: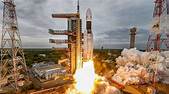 ISRO undertook PSLV-C53/DS-EO mission on June 30, 2022 from the Second Launch Pad at Satish Dhawan Space Centre, Sriharikota.
PSLV-C53 is the second dedicated commercial mission of NewSpace India Limited (NSIL).
It is designed to orbit DS-EO satellite along with two other co-passenger satellites from Singapore.
This is the 55th mission of PSLV and 15th mission using PSLV-Core Alone variant.
The mission proposes to demonstrate the utilization of the spent upper stage of the launch vehicle as a stabilized platform for scientific payloads subsequent to the separation of the satellites.
PSLV-C53 carries three satellites. DS-EO, a 365 kg and NeuSAR, a 155 kg satellite both belonging to Singapore.
Third satellite is a 2.8 kg Scoob-1 of Nanyang Technological University (NTU), Singapore.
PSLV Orbital Experimental Module (POEM)DS-EO carries an Electro-Optic, multi-spectral payload that will provide full color images for land classification, and serving Humanitarian Assistance and Disaster Relief needs.
NeuSAR is Singapore's first small commercial satellite carrying a SAR payload, which is capable of providing images in day and night and under all weather conditions.
SCOOB-I satellite is the first satellite in the Student Satellite Series (S3-I), a hands-on student training program from the Satellite Research Centre (SaRC) at Singapore's NTU School of Electrical and Electronic Engineering.