400th Birth Anniversary Of Ahom General Lachit Barphukan: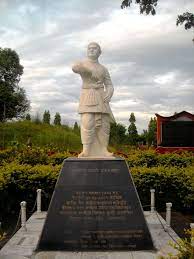 The three day-long celebration of 400th birth anniversary of Ahom General Lachit Barphukan will begin in New Delhi on November 23, 2022.
Lachit Borphukan was a commander and councillor in the Ahom Kingdom.
The Ahom Kingdom resisted the invasion of the Mughal Empire several times and reigned in present-day Assam for over 600 years.
The Ahom Dynasty was founded in 1228 in Assam's Brahmaputra Valley.
The first King of the Ahom Kingdom was Chaolung Sukaphaa, who crossed the Patkai mountainous region to reach the Brahmaputra valley.
In 1615, the Ahom Dynasty engaged in its first significant conflict with the Mughal Empire.
The Mughals conquered the Ahom capital of Garhgaon in 1662 but were defeated in later battles.
Finally, during the battle of Saraighat in 1671, the Ahoms led by Lachit Borphukan successfully defeated the Mughals.
Borphukan is mainly known for his leadership in this battle. By 1682, the Mughal influence in the region was completely eradicated.