Women's World Boxing Championship: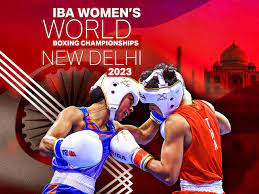 Nikhat Zareen (2nd world title) and Lovlina Borgohain (1st world title) won two gold medals for India in the Women's World Boxing Championship.
Nikhat Zareen and Lovlina Borgohain made gold for India at the Women's World Boxing Championships in New Delhi.
While Nikhat Zareen won the gold in the 50kg category, Lovlina Borgohain clinched the yellow metal in the 75kg category.
Nikhat Zareen registered a 5-0 victory in the final bout against Vietnam's Nguyen Thi Tam to claim India's third gold in the tournament before Lovlina Borgohain won the summit clash against Australia's Caitlin Parker with a split 5-2 verdict.
The Women's World Boxing Championship was organised by the International Boxing Association (IBA).
The mission of IBA is to promote, support and govern the sport of boxing worldwide in accordance with the requirements and spirit of the Olympic Charter.
The Olympic Charter is the codification of the fundamental principles of Olympism, and the rules and bye-laws (a set of rules or laws established by an organization or community so as to regulate itself) adopted by the International Olympic Committee.