Infrastructure For Resilient Island States (IRIS):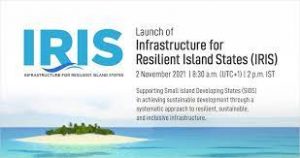 Prime Minister Narendra Modi launched Infrastructure for Resilient Island States (IRIS) on sidelines of climate summit in Glasgow.
Infrastructure for Resilient Island States or IRIS is the first major initiative by the Coalition for Disaster Resilient Infrastructure (CDRI) started by India in 2019.
IRIS seeks to operationalise the CDRI initiative.
It is aimed at achieving sustainable development through a systematic approach to resilient, sustainable and inclusive infrastructure in Small Island Developing States (SIDS).
Small island states are the most vulnerable to the impacts of climate change. As sea levels rise, they face a threat of being wiped off the map.
According to CDRI, several small island states have lost 9 per cent of their GDPs in single disasters during the last few years.