70th Anniversary Of The Washington Declaration: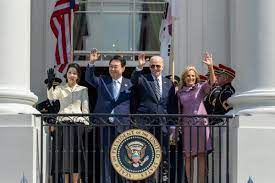 The 70th anniversary of the Washington Declaration was commemorated.
Washington Declaration is a security alliance between the United States and the Republic of Korea.
26th day of April, 2023 marked the 70th anniversary of the U.S.-ROK Alliance.
The Alliance commits to engage in deeper, cooperative decision-making on nuclear deterrence including through enhanced dialogue and information sharing regarding growing nuclear threats to the ROK and the region.
The two Presidents announced the establishment of a new Nuclear Consultative Group (NCG) to strengthen extended deterrence, discuss nuclear and strategic planning, and manage the threat to the non-proliferation regime posed by the Democratic People's Republic of Korea (DPRK).
The Alliance will work to enable joint execution and planning for ROK conventional support to U.S. nuclear operations in a contingency and improve combined exercises and training activities on the application of nuclear deterrence on the Korean Peninsula.
In keeping with the Presidents' commitments, the Alliance has established a new bilateral, interagency table-top simulation to strengthen our joint approach to planning for nuclear contingencies.