76th Foundation Day Of BIS: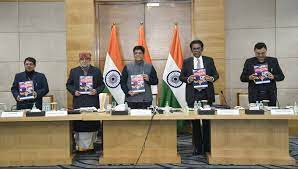 The 76th Foundation Day of Bureau of Indian Standards (BIS) was celebrated in New Delhi and various initiatives were launched by the Ministry of Consumer Affairs, Food & Public Distribution.
Initiatives Launched:
Portal for Mapping of Industrial Units and Laboratories:
This is a centralized platform for information on industrial units and laboratories across the country.
This will enable analysis of test facilities in the country and help entrepreneurs in accessing information about testing facilities.
Standards National Action Plan (SNAP) 2022- 27:
This is a document to serve as strong foundation for standardization to meet the emerging technologies and concerns of sustainability and climate change.
SNAP 2022 – 27 will play an important role in steering the national standardization efforts which would lead to standards becoming a key enabler of India's economic aspirations.
Revision Exercise of National Building Code of India 2016 (NBC 2016):
BIS is initiating the Exercise of Revision NBC 2016 to include:

Sustainable City Planning Norms
New and Sustainable Building Materials
Design Concepts
Construction Technologies
Building and Plumbing Services
Revised National Electrical Code of India 2023 (NEC 2023):
NEC 2023, a comprehensive electrical installations Code prepared by BIS, is a national instrument providing guidelines for regulating the Electrical Installations practices across the country.
The current revision includes the requirements of electrical installation as per the latest International best practices.
Some of the important new chapters added in the revised NEC are requirements related to Electrical installations at special locations like Hospitals, Community facilities, Hotels, Swimming Pools, Amusement Parks, Supplies for Electric vehicles, multi-storied buildings etc.
Training Courses on National Building Code of India 2016 and National Electrical Code of India:
BIS through its training arm, the National Institute of Training for Standardization (NITS) has designed training courses on NBC 2016 and NEC 2023 for national capacity building.
Standards Clubs in Schools:
Through Standards Clubs, BIS aims to expose science students of class 9th and above to the concepts of Quality and Standardization through student centric activities.
BIS has till date established over 4000 Standards Clubs across India.