Khushiyon Ka Aashiyana: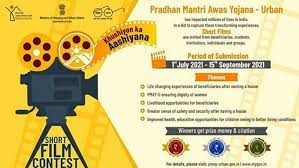 Pradhan Mantri Awas Yojana – Urban (PMAY-U) has launched Khushiyon Ka Aashiyana – Short Film contest 2021 to take ahead the Prime Minister's vision of 'Housing for All'.
Ministry of Housing and Urban Affairs (MoHUA) announced it on the occasion of sixth anniversary of PMAY-U on June 25, 2021.
For the short film contest, applications are invited from PMAY-U beneficiaries, students, youth, members of the civil society, institutions and individual/groups on the broad theme of six years journey of PMAY-U Mission and how it has impacted lives of people, thereby bringing transformation, dignity and enabling empowerment.
The competition is open to all Indian Nationals above the age of 18 years and the final date for submission is September 1.
The results will be declared on September 30, 2021 and 25 each winners will be rewarded in three categories with cash prizes of Rs 25000, Rs 20000 and Rs 12500 along with certificate.