809th Urs Of Khwaja Moinuddin Chisti: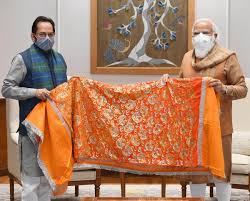 Prime Minister Modi has handed over a Chadar that would be offered at the Ajmer Sharif Dargah on the 809th Urs of Khwaja Moinuddin Chisti.
Ajmer Sharif Dargah is a Sufi shrine (dargah) of the revered sufi saint, Moinuddin Chishti, located at Ajmer, Rajasthan. The shrine has Chisti's grave (Maqbara).
The Urs festival is an annual festival held at Ajmer, Rajasthan which commemorates the anniversary of the death of Sufi saint Moinuddin Chishti, (founder of the Chishtiya Sufi order in India).
It is held over six days and features night-long dhikr (zikr) qawwali singing.
The anniversary is celebrated in the seventh month of the Islamic lunar calendar.