8th National Conference On Economics Of Competition Law: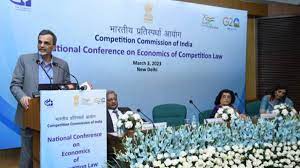 The Competition Commission of India (CCI) is holding its 8th annual National Conference on Economics of Competition Law.
Dr. V Anantha Nageswaran, Chief Economic Advisor, Ministry of Finance, Government of India, has consented to deliver the Keynote Address in the Inaugural Session.
The Conference has a plenary session and two technical sessions.
The Plenary at this year's Conference is on the topic 'ANTITRUST AND REGULATION: INTERFACES AND SYNERGIES'.
The Conference is an endeavour to develop and sustain interest in the Economics of Competition Law and create a critical mass of antitrust economists.
It brings together scholars, practitioners, academicians and experts working in the area of economics of competition law.
Knowledge sharing and discussions at the conference go beyond case specific sessions and provide the economic basis for the enforcement of the Act.
The objectives of the conference are:-

to stimulate research and debate on contemporary issues in the field of economics of competition law,
to develop a better understanding of competition issues relevant to the Indian context and
to draw inferences for enforcement of competition law in India.