World Hearing Day 2023: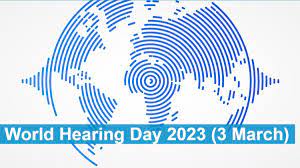 World Hearing Day is observed every year on March 3 to raise awareness about hearing care.
The World Health Organization chose the theme "Ear and hearing care for all" for World Hearing Day 2023.
It highlights the importance of integrating ear and hearing care within the primary healthcare ecosystem.
It seeks to promote training and skill development in this area to help countries achieve the objective of universal health coverage.
The scheme is implemented under the National Health Mission of Government Of India which

works to rehabilitate persons suffering from deafness.

The programme also works to develop institutional capacities in the country related to ear care.