Conference On Aatmairbhar Bharat :Self Reliance for Renewable Energy Manufacturing: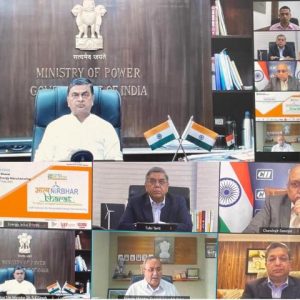 Confederation of Indian Industry (CII) had recently organised a conference on "Aatmairbhar Bharat – Self Reliance for Renewable Energy Manufacturing".
India had one of the fastest rates of growth of Renewable Energy capacity in the world.
It had pledged in COP-21 in Paris that by 2030; 40% of its power generation capacity will be from non-fossil fuel sources.
It has set a target of 450 GW of Renewable Energy capacity by 2030.
It had achieved universal access by connecting every village and every hamlet under Deen Dayal Upadhyay Gram Jyoti Yojana Scheme and connecting every household under Saubhagya Scheme. It was the fastest and the largest expansion of access in the world.
India has already touched 200 GW of demand even when the effects of COVID-19 were still there.
India will also emerge as a leader in Green Hydrogen and Green Ammonia.
Deen Dayal Upadhyay Gram Jyoti Yojana Scheme:
The erstwhile Rajiv Gandhi Grameen Vidyutikaran Yojana (RGGVY) scheme for village electrification and providing electricity distribution infrastructure in the rural areas has been subsumed in the DDUGJY scheme.
Nodal agency for implementation: Rural Electrification Corporation Limited (REC).
Saubhagya scheme:
Pradhan Mantri Sahaj Bijli Har Ghar Yojana (PM Saubhagya) was launched in September 2017 with a target to electrify all households by December 2018.
This target was moved forward to March 31, 2019, and eventually the Centre declared that all 'willing' homes have been provided with electricity connections.