Accredited Social Health Activist : Planning For Incentives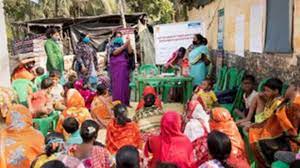 The government is planning to give incentives to ASHA health activists for mobilising eligible individuals for sickle cell disease screening and distribution of sickle cell cards.
ASHA is a trained female community health activist.
ASHA workers are a core part of the National Rural Health Mission launched by the Government of India.
Selected from the community itself and accountable to it, the ASHA will be trained to work as an interface between the community and the public health system.
Functions:

Act as a care provider at the community level.
Facilitating access to healthcare, medicine, and sanitation services.
Raising the level of awareness of health issues among the marginalised sections within the community.
Advocate for female health and hygiene standards.

An ASHA worker is primarily an "honorary volunteer" but is compensated for her time in specific situations (such as training attendance, monthly reviews, and other meetings).
On an average, an ASHA worker's monthly income varies from Rs 2,000 per month to Rs 7,000 per month, depending on the state.