Portuguese Coins : Found By a Farmer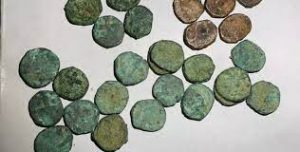 A farmer in North Goa's Nanoda Bamber village found 832 copper coins in a pot buried in the soil which were believed to be minted in Goa around the 16th or 17th Century when it was under Portuguese rule.
The Portuguese people issued coins in gold, copper and silver from Goa.
The gold coins were termed as 'Cruzado' or 'Manoel' and were issued in the same size, value and weight as the 'Pagodas' or 'Hons'.
Another type of gold coin named 'Meio-manoel', and 'Meia-espera' and 'Espera' in silver were also issued.
The gold 'Manoel' and the silver 'Espera' had the Cross of the Order of Christ on the obverse and the armillary sphere, the device of the King D. Manoel on the reverse side of the coin were found.
The half pieces of these coins bore the word 'MEA' surmounted by a crown on one side of the coin and the armillary sphere on the flip side of the coin.
The Governor of Goa suspended the issue of these coins in 1519.
After this in 1549, gold and silver coins were reintroduced.
The gold coins of Portuguese were of the value of 20, 10, 5 and 2 'Xerafirms'.