Advanced Medium Combat Aircraft (AMCA):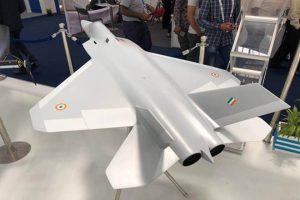 India and France are close to concluding a deal, likely in the next couple of months, for the joint development of a 125KN engine for the indigenous fifth generation Advanced Medium Combat Aircraft (AMCA) under development.
The collaboration is between the Defence Research and Development Organisation (DRDO) and French engine maker Safran.
External Affairs Minister S. Jaishankar discussed this issue with French Defence Minister Florence Parly during his visit to Paris.
Last year, the government had informed Parliament that it is proposed to develop indigenous engines for powering aircraft such as the Light Combat Aircraft (LCA) variants and AMCA in association with an international engine house.
The initial design of the AMCA started way back in 2009 and is envisaged as a twin engine stealth aircraft with internal weapons bay , which has been developed for the first time and for which the design is complete, as reported by The Hindu earlier.
The manufacturing and production of the aircraft is planned through a Special Purpose Vehicle, which will also involve private industry.