African Swine Fever In India: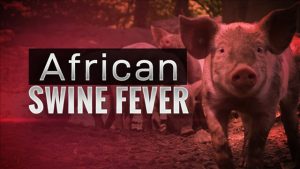 African Swine Fever has been confirmed for the first time, at a private pig farm in in Kerala, after more than 15 pigs on the farm had died due to the disease in the last ten days.
It is a highly contagious and fatal animal disease that infects and leads to an acute form of hemorrhagic fever in domestic and wild pigs.
Other manifestations of the disease include:

High fever
Depression
Anorexia
Loss of appetite
Hemorrhages in the skin
Vomiting and diarrhoea among others.

It was first detected in Africa in the 1920s.
Historically, outbreaks have been reported in Africa and parts of Europe, South America, and the Caribbean.
However, since 2007, the disease has been reported in multiple countries across Africa, Asia and Europe, in both domestic and wild pigs.
The mortality is close to 95% – 100% and since the fever has no cure, the only way to stop its spread is by culling the animals.
ASF is not a threat to human beings since it only spreads from animals to other animals.
ASF is a disease listed in the World Organisation for Animal Health (OIE)'s Terrestrial Animal Health Code.