Alcalus fontinalis : New Species Of Frog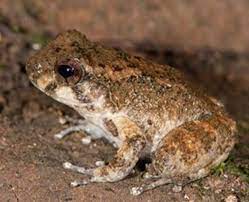 Researchers have discovered a new species of frog, Alcalus fontinalis in the northeast Indian state of Arunachal Pradesh recently.
The identification of the new species is based on molecular, morphological, and osteological characteristics.
Alcalus fontinalis frog was formally named Alcalus fontinalis, meaning "spring or fountain," referencing the tiny streams or brooks where the frog was found in Arunachal Pradesh.
It was discovered in the Namdapha Tiger Reserve, Arunachal Pradesh.
The new species stands out from its congeners due to a unique combination of morphological features.
These include a snout-vent length of 27–28 mm in males and 29.9–36.2 mm in females.
It has a disc on the fingers and toes with a horizontal/transverse groove on the dorsal surface.
It has wrinkled dorsal skin.
It has a pair of faint dorsolateral stripes on the back.
The new species also exhibits a DNA sequence divergence of 7.6–25.4% in the mitochondrial gene fragment 12S–tVal–16S rRNA (1533 base pairs), further distinguishing it from its congeners.
The frog appeared to be a mix of a bush frog and a water frog.