Amur falcon : World's Longest Travelling Raptors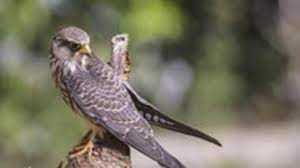 The Manipur Forest Department will carry out a head count of Amur falcons-the world's longest travelling raptors- in Tamenglong district.
It is a small raptor of the falcon family.
Locally known as Akhuipuina, the bird arrives mainly in Manipur and Nagaland.
They breed in south-eastern Siberia and Northern China and migrate long distances in large flocks to winter in Southern and East Africa.
The one-way journey via India is about 20,000 km long and the birds do this twice a year.
Conservation efforts: It is protected under the Wildlife Protection Act 1972 and included under its Schedule IV.
IUCN: Least Concern.