Antonov AN-32 Aircarft: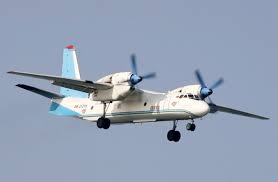 India recently donated propellers of the Antonov AN-32 military transport aircraft to Sri Lanka.
Antonov AN-32 is a twin-engined turboprop military transport aircraft.
It is designed and manufactured by the Antonov Design Bureau of Ukraine.
It was purchased by India from the erstwhile Soviet Union in 1984.
Its Nato reporting name is Cline.
The AN-32 can be operated at high-altitude airfields (up to 4500 m above sea level) and in a hot climate, making the aircraft suitable for tactical military transport or other evacuation operations.
It can carry a maximum weight of 27 tons at a maximum speed of 530 km/h.
42 paratroopers or 50 passengers or 24 Casualties on a stretcher with three medical personnel.
It also has a limited bombing role and is used for para-trooping operations.