Anwar Ibrahim : Malaysia's New Prime Minister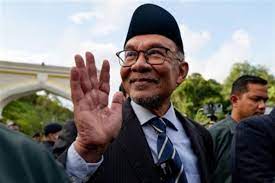 Anwar Ibrahim was appointed as the 10th Prime Minister of Malaysia by King Sultan Abdullah.
His appointment concludes the five-day political impasse caused after no party managed to secure a majority to form the government for the first time since the independence in 1957.
Anwar Ibrahim is a veteran politician in Malaysia who started his political career as a student activist.
He founded the Muslim Youth Movement of Malaysia (ABIM) in 1971.
In the early days of his political career, Ibrahim led protests against rural poverty and other socio-economic challenges afflicting the country.
He later joined the United Malays National Organisation (UMNO) party and became the finance minister.