ATL Marathon 2022-23: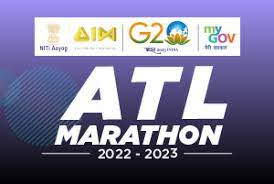 NITI Aayog recently opened applications for 'ATL Marathon 2022-23'.
ATL Marathon is a flagship innovation challenge under Atal Innovation Mission's Atal Tinkering Labs program.
This is a national-level innovation challenge for young innovators across India who can solve community problems of their choice, and develop innovative solutions in the form of working prototypes or, minimum viable product (MVP).
The theme for this edition of ATL Marathon is "India's G20 Presidency".
AIM has designed the problem statements based on G20's working group inspiring recommendations on internationally relevant issues in respective areas of focus.
This marathon will create a huge opportunity for students to innovate not just for the better India but for the world by resolving global problems in various sectors.
Atal Tinkering Lab:
Vision: To cultivate one Million children in India as Neoteric Innovators Atal Innovation Mission is establishing Atal Tinkering Laboratories (ATLs) in schools across India.
Objective: To foster curiosity, creativity, and imagination in young minds; and inculcate skills such as design mind-sets, computational thinking, adaptive learning, physical computing etc.
In order to foster inventiveness among students, ATL can conduct different activities ranging from regional and national level competitions, exhibitions, workshops on problem solving, designing and fabrication of products, lecture series etc. at periodic intervals.