Marathon: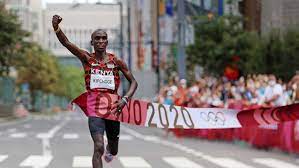 Kenya's Eliud Kipchoge, who is regarded as the world's greatest marathon runner, broke his own world record by 30 seconds at the Berlin Marathon.
It was a major improvement over his 2:01:39 set four years ago in Berlin.
The Berlin marathon course is considered the fastest in the world because of the flat smooth roads.
The word marathon comes from a Greek legend that tells the story of Pheidippides, who ran from the Plains of Marathon all the way to Athens in 490 BCE to spread the news of the Greeks' victory over the Persian army.
The running race based on the story was first introduced at the Olympic Games in 1896.
It is a race in which people run on roads over a distance of 42 kilometres or about 26 miles.
It is an activity that takes a long time to complete and needs a lot of energy and determination.