Attukal Pongala: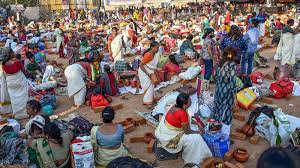 The Attukal Pongala falls on the ninth day of the annual ten-day festival at the Attukal Bhagavathy Temple, Thiruvananthapuram.
It is one of the world's largest gatherings of women.
Pongala is a ten-day-long festival of Attukal Bhagavathy Temple.
The festival commences with the musical rendering of the story of the Goddess (Kannaki Charitam) during the "Kappu Kettu ceremony".
The story invokes the presence of Kodungallur Bhagavathy and the slaying of the Pandyan King.
This festival commemorates the victory of Good over Evil, by the slaying of the Pandyan King.
Attukal Bhagavathy temple is dedicated to Goddess Bhagavathy.
Also known as, "the Sabarimala of Women", this temple attracts the biggest set of women devotees for the annual Attukal Pongala festival.