AUKUS Meet 2023: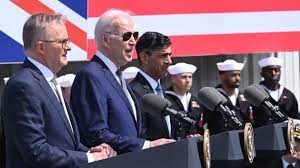 AUKUS meet was held recently.
Australia, United States, and United Kingdom (AUKUS) Alliance is a trilateral security partnership for the Indo-Pacific, between Australia, the UK, and the US (AUKUS).
It is based on a shared commitment of its three members to deepen diplomatic, security, and defense cooperation in the Indo-Pacific.
Under it, the U.S., and the U.K. will help Australia deploy nuclear-powered submarines in the Pacific region.
The focus would be on protecting shared values and promoting security and prosperity in the Indo-Pacific region.
AUKUS Alliance will involve a new architecture of engagements across emerging technologies such as artificial intelligence, quantum technologies, cyber capabilities, and additional undersea capabilities.
It will help Australia to acquire nuclear-powered submarines (SSNs) in cooperation with the UK & the US.
AUKUS will contain the rise of China, particularly its rapid militarisation and aggressive behavior in the Pacific region, especially in and around the South China Sea.
It also gives US focus for its post-Afghanistan tilt to Asia.
The AUKUS deal seeks to address core US concerns of regional security, deterrence, and balance of power in the Indo-Pacific.
It will enhance Australia's contribution to its other partnerships, including the QUAD.