Autonomous Weaponised Boat Swarms: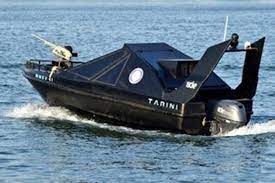 The Indian Navy has recently given accordance of necessity (AON) approval for 12 autonomous weaponised boat swarms, which have been developed by Pune-based Sagar Defence Engineering.
The agreement between the Indian Navy and the organisation marks the 50th contract awarded under the SPRINT program.
Autonomous Weaponised Boat Swarms are strategically designed for naval tactics, employing a coordinated deployment of numerous small unmanned boats to overwhelm an adversary's naval defenses.
They are equipped with a variety of weapons and sensors that are capable of remote or autonomous operation.
They are equipped with an integrated system capable of executing a variety of naval and security missions, such as littoral/ODA Patrol, High-Speed Interdiction, Coastal Surveillance, Local Naval Defence, Constabulary Operations, C4ISR, Medium-Sized Unmanned Surface Vessel, and Low-Intensity Maritime Operations (LIMO).