Aviation Turbine Fuel: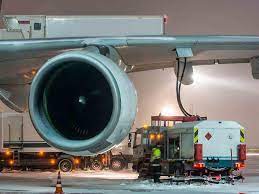 Oil marketing companies (OMCs) hiked Aviation Turbine Fuel (ATF) prices by 16.3% on June 16, taking jet fuel prices to a record high of Rs 1.41 lakh per kilolitre in Delhi.
The record increase in ATF prices, combined with the depreciating rupee, is set to increase the cost of operations for airlines, which could lead to an increase in air fares by up to 15%.
The cost of ATF constitutes up to 50% of the cost of operations for airlines in India that are already struggling due to the high cost environment and lower fares in the country.
The airline industry had sought respite from high fuel prices through a cut in excise duty on ATF or by bringing jet fuel under GST, that would have brought down prices and also allowed airlines to claim input credit tax on the GST paid.
While bringing ATF under GST seems unlikely for now, the Aviation Ministry had requested the Finance Ministry to reduce excise duty on jet fuel by 2 percentage points to 9 per cent. The Finance Ministry, however, did not cut any taxes on ATF.
Jet fuel or aviation turbine fuel (ATF, also abbreviated avtur) is a type of aviation fuel designed for use in aircraft powered by gas-turbine engines.
It is colorless to straw-colored in appearance.