Thrissur Pooram Festival: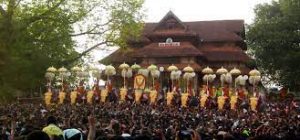 The festivities of the famous Thrissur Pooram began with Kodiyettam, ceremonial flag hoisting, at the participating temples.
Thrissur Pooram is celebrated in Kerala during the Malayalam month of Medom(April-May).
It is considered to be the Mother of all Poorams, a cultural highlight that towers above all other festivals.
It is celebrated in the grand assembly of Gods and Goddesses in and around Thrissur.
It was the brainchild of Raja Rama Varma, famously known as Sakthan Thampuran, the Maharaja of Cochin (1790–1805).
It is centred on the Vadakkunnathan Temple, with all these temples sending their processions to pay obeisance to Shiva, the presiding deity.
The processions and rituals of each of deities follow a very strict itinerary, scheduled in such a way that the tempo of the Pooram celebrations.
A massive parade is planned on temple grounds, accompanied by Chenda Melam and Pancha Vadyam music.
The final day of the pooram occurs on the seventh day. It is often referred to as "Pakal Pooram.