NASA's Artemis Program: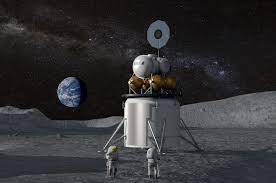 The first moonbound rocket and spacecraft of NASA's Artemis program are expected to do a "wet dress rehearsal" on the launch pad in February.
Artemis– Acceleration, Reconnection, Turbulence and Electrodynamics of Moon's Interaction with the Sun.
It is NASA's next mission to the Moon.
Objective: To measure what happens when the Sun's radiation hits our rocky moon, where there is no magnetic field to protect it.
Artemis was the twin sister of Apollo and goddess of the Moon in Greek mythology.
With the Artemis program, NASA will land the first woman and next man on the Moon by 2024.
NASA's powerful new rocket, the Space Launch System (SLS), will send astronauts aboard the Orion spacecraft nearly a quarter million miles from Earth to lunar orbit.
Astronauts will dock Orion at the Gateway and transfer to a human landing system for expeditions to the surface of the Moon.
They will return to the orbital outpost to board Orion again before returning safely to Earth.
Artemis 1, 2:
The agency will fly two missions around the Moon to test its deep space exploration systems.
Artemis 1 is aiming to send an uncrewed spacecraft around the moon using a combination of the never-flown Space Launch System rocket, along with the once-flown Orion spacecraft.
NASA hopes to extend the program with the moon-orbiting crewed Artemis 2 mission in 2024, then a landing on Artemis 3 in 2025, ahead of other crewed missions later in the 2020s.