Sea Cucumber: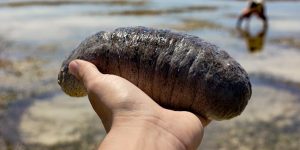 The Indian Coast Guard (ICG) has seized two tonnes of sea cucumber, a banned marine species, in the Gulf of Mannar and Palk Bay areas in Tamil Nadu.
Sea cucumbers are marine invertebrates that live on the seafloor found generally in tropical regions. They're named for their unusual oblong shape that resembles a fat cucumber.
There are about 1,250 species of sea cucumber, all of which belong to the taxonomic class Holothuroidea.
This class falls under the Echinodermata phylum, which also includes many other well-known marine invertebrates, such as sea stars, sea urchins and sand dollars.
They are crucial to maintain the balance of ocean habitats.
Significance:
They are an integral part of the coral ecosystem as one of the main by-products of the sea cucumbers digestion of sand is calcium carbonate and this is essential for the survival of the coral reefs.
They act like garbage collectors of the ocean world, and they recycle nutrients, thus playing an important role in keeping coral reefs in good condition.
Illegal Trading and smuggling since the species is high in demand across south-east Asia, mainly China, for food and traditional medicine.
Protection:

IUCN Red List: Brown Sea Cucumber (Endangered), Blackspotted Sea Cucumber (Least Concern), Blue Sea Cucumber (Data Deficient), etc.
Wildlife Protection Act, 1972: Schedule I.

Conservation Efforts:

In 2020, the Lakshadweep Islands administration created the world's first conservation area – 239 sq. km – for sea cucumbers.