Bharat Pravah-India Along Its Shores Initiative: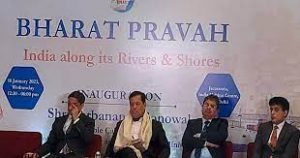 The Ministry of Shipping, Waterways, and Ports has launched 'Bharat Pravah-India along its Shores', an initiative to highlight the significance and imagery of rivers, ports, and shipping in everyday life through a series of nationwide events.
Kochi, Vizhinjam in Kerala and Galathea Bay ports in Andaman Nicobar Islands have made some headway in the direction of becoming full-fledged transhipment hubs.
Bharat Pravah will serve as a common platform to bring together stakeholders from different walks for the purpose of creating a larger vision of shipping, rivers, seas & people.
It will highlight the challenges, policy issues and future goals relating to the maritime sector.
Themes:

Rivers and Sea-Centric Development in India- the Historical lens.
Sea, River, Ports and Ship in Folk Culture and Literature.
Representation of Ports and Shipping in Popular Culture.
Role of Shipping and Ports in India's Development in the last 30 years.
The Politics and Economy of Privatisation of Ports.
Inland Waterways – Arteries of Growth, their Role and Significance.
Greening Ports and Shipping Industry.
Future of Ports and Shipping Industry- Management, Challenges and Policies.