Spot Bellied Eagle Owl : Spotted In Seshachalam Forest Of Andhra Pradesh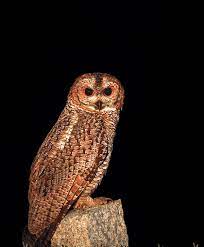 Spot Bellied Eagle Owl was recently spotted in Seshachalam forest of Andhra Pradesh for the first time.
Spot Bellied Eagle Owl:
Scientific name: Bubo nipalensis
Spot Bellied Eagle Owl is also known as the forest eagle-owl.
They are large, very powerful and bold predatory birds.
It measures about 50 to 65 cm in length and weighs 1500 to 1700 grams.
It is a forest-inhabiting species found in India, Sri Lanka, Nepal, Bhutan, Bangladesh, Myanmar, China, Thailand, Laos, Cambodia and Vietnam.
These species occur in altitudes from 300 to 3000 meters.
Conservation:

IUCN Status: Least Concern
Wildlife (Protection) Act, 1972: Schedule IV
CITES (Convention on International Trade in Endangered Species of Wild Fauna and Flora): Appendix II.
Seshachalam Hills:
The Seshachalam Hills are a part of the Eastern Ghats in Andhra Pradesh.
They are a group of seven hills namely, Seshadri, Neeladri, Garudadri, Anjanadri, Vrishabhadri, Narayanadri and Venkatadri.