BHIM–UPI In Bhutan.: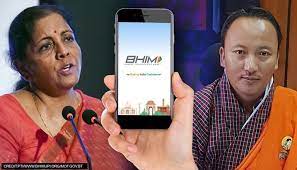 Union Minister of Finance along with her counterpart, the Finance Minister of Bhutan, Mr Lyonpo Namgay Tshering, jointly launched BHIM–UPI in Bhutan.
This launch fulfils the commitment made by the two countries during the Prime Minister of India's State visit to Bhutan in 2019.
Following that visit, India and Bhutan have already enabled inter-operability in acceptance of Rupay cards in each other's countries in two phases – acceptance of Rupay cards issued in India at Bhutan based terminals in the first phase, and vice versa in the second phase.
With launch of BHIM-UPI in Bhutan, the payment infrastructures of the two countries are seamlessly connected and will benefit a large number of tourists and businessmen from India who travel to Bhutan each year.
Bhutan is the first country to adopt UPI standards for its QR deployment, and the first country in our immediate neighbourhood to accept mobile based payments through the BHIM App.