Yusaku Maezawa: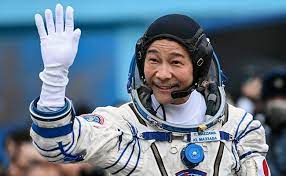 Billionaire Japanese entrepreneur Yusaku Maezawa reached the International Space Station (ISS) for a 12-day trip, during which time he will complete 100 tasks in space, including playing a game of badminton.
Maezawa and another space tourist Yozo Hirano–who will document the billionaire's space flight–made the trip led by Russian cosmonaut Alexander Misurkin.
The three reached the ISS aboard a Soyuz MS-20 that took off from the Baikonur cosmodrome in Kazakhstan.
Companies including Virgin Atlantic, SpaceX, XCOR Aerospace, Jeff Bezos's Blue Origin and Armadillo Aerospace are working on providing space tourism services to people.
But Space Adventures is the only private company to send paying customers to orbital space so far, a report by the Congressional Research Service notes.
In 2004, test pilot Mike Melville became the first private astronaut to fly beyond the Karman Line (recognised as the edge of space).