8th ASEAN Defence Ministers Meeting (ADMM) Plus Was Held Recently: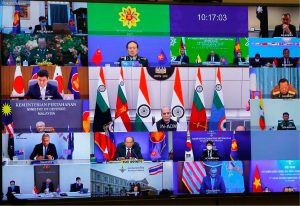 It is being hosted by Brunei as it is the chair of the ASEAN grouping this year.
Consistent with the ADMM guiding principles of open and outward-looking, the 2nd ADMM in Singapore in 2007 adopted the Concept Paper to establish the ADMM-Plus.
The ADMM-Plus is a platform for ASEAN and its eight Dialogue Partners to strengthen security and defense cooperation for peace, stability, and development in the region.
Eight Dialogue Partners are Australia, China, India, Japan, New Zealand, Republic of Korea, Russia, and the USA (collectively referred to as the "Plus Countries").
It aims to promote mutual trust and confidence between defense establishments through greater dialogue and transparency.
Agreed five areas of practical cooperation under this mechanism are:

Maritime security, counter-terrorism, humanitarian assistance and disaster relief, peacekeeping operations and military medicine.
In 2013, a new priority area of humanitarian mine action was agreed.