First Global Buddhist Summit: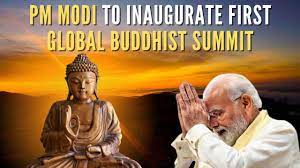 PM will inaugurate the first Global Buddhist Summit in New Delhi on April 20th and 21st.
Conducted by the Ministry of Culture+ International Buddhist Confederation (IBC)
Theme: "Responses to Contemporary Challenges: Philosophy to Praxis."
The summit aims to enhance cultural and diplomatic relationships with other countries and mark the significance and importance of India in Buddhism, as Buddhism was born in India.
The summit is an effort towards engaging the global "Buddhist Dhamma" leadership and scholars on the matters of Buddhist and universal concerns, and to come up with policy inputs to address them collectively.
The discussion at the summit will explore how the Buddha Dhamma's fundamental values can provide inspiration and guidance in contemporary settings.
The summit will witness the participation of eminent scholars, Sangha leaders and Dharma practitioners from all over the world, who will discuss pressing global issues and look for answers in the Buddha Dhamma that is based on universal values.