Ethiopia- Tigray Conflict: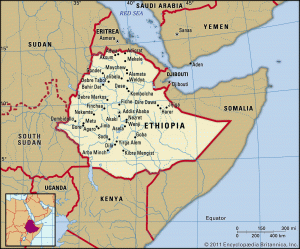 An Ethiopian government team and Tigray forces are going to have peace talks in South Africa.
Since 1994, Ethiopia has had a federal system in which different ethnic groups control the affairs of 10 regions. Tigray People's Liberation Front (TPLF) (the party in power in the Tigray region of Ethiopia)- was influential in setting up this system.
However, the reforms started by Nobel Peace prize winner Ethiopian PM Abiy Ahmed (he ended a long-standing territorial dispute with neighbouring Eritrea) saw many of the top key Tigrayan government leaders being accused of corruption and being removed.
Tigray's leaders saw Mr Abiy's reforms as an attempt to centralise power and destroy Ethiopia's federal system and revolted.
The conflict started, when Ethiopian Prime Minister Abiy Ahmed ordered a military offensive against regional forces in Tigray.
Ethiopia:
It is a landlocked country located in the Horn of Africa, officially known as the Federal Democratic Republic of Ethiopia.
The country lies completely within the tropical latitudes and is relatively compact, with similar north-south and east-west dimensions.
The capital is Addis Ababa.
Ethiopia is one of the world's oldest countries, its territorial extent having varied over the millennia of its existence.
Ethiopia is located from Sudan in the southeast, Eritrea to the south, Djibouti and Somalia to the west, Kenya to the north, and South Sudan to the east.
It is the most populous landlocked country in the world.