Meri Fasal-Mera Byora E-Procurement Portal : By Haryana Government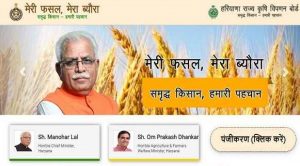 The Haryana government has launched the Meri Fasal-Mera Byora e-procurement portal. Due to this portal, Haryana has become the first state in India where as many as 14 crops are procured at the Minimum Support Price (MSP).
These crops include wheat, mustard, barley, gram, paddy, maize, bajra, cotton, sunflower, moong, groundnut, tur, urad and sesame.
The portal is the testimony of increasingly adopting digital governance, as a means to improve farming and ensure enhanced income for farmers.
The portal was started in the wake of the Covid-19 pandemic.
In less than two years, 8.71 lakh or more than 80% of the total farmers in the state, registered on the portal in the rabi season.
The portal seeks to provide an online sale facility, 81 mandis of the state have been linked with the e-NAM (electronic national agriculture market) portal.
The eNAM platform offers a pan-India electronic trading portal that networks the existing APMC (Agricultural Produce Market Commodities) mandis to create a unified national market for agricultural commodities.